More Colours in Precon Decks = Better? Find Out in Dominaria United's Commander Review
As Dominaria is the 1st world (also known as plane) where Magic: the Gathering began, it only makes sense that Wizards of the Coast would want to go back to the basics of what makes the game fun. The thought of casting Legendary Creatures who have made their mark in the lore, or having access to any and every spell in its history, are sumptuous to say the least.
But how does that affect power level or playability of precon decks – do too many cooks spoil the broth? We're here to find that out with a full review of the 2 Dominaria United Commander precon decks. Legends' Legacy focuses on playing Legendary Creatures and synergy, while Painbow tries to unleash 5 colour spells to outmanoeuvre the opponent.
Before we get started, a quick recap on our rating system:
Power Level: How likely can the deck hold its own and win against the other recent precon decks?
Value: How good is the deck in terms of financial value of reprints, as well as future potential gain?
Upgradability: How easily can this deck be upgraded and optimised with a small budget? A high potential for upgrades will lead to better scores.
Beginner Friendliness: How easily can a beginner pick up and learn the mechanics of the deck?
Legends' Legacy Precon Deck
Overview
Led by the Planeswalker Commander Dihada, Binder of Wills, Legends Legacy is a red, white, black deck that tries to make the most use of Legendary Permanents and triggers. It's a fun iteration of the "super friends" deck – think of it as Magic: the Gathering's own Fellowship of the Ring where you combine different heroes of different backgrounds and traits to eke out a win.
Power Level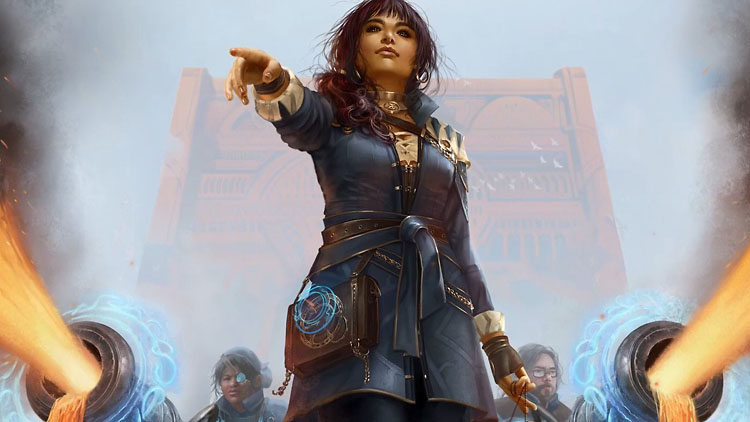 Value
Upgradability
Beginner Friendliness
Final Verdict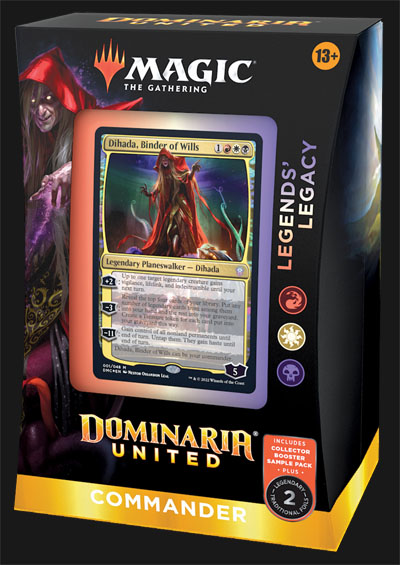 Painbow Precon Deck
Overview
As you've already guessed, Painbow is a mix of 2 ideas – dealing pain, and playing the 5-colour rainbow deck. Having access to all 5 colours means any card is eligible for your Commander – Jared Carthalion. Jared is a Planeswalker that can either generate a 3/3, pump Creatures with +1/+1 counters, or return a multi-coloured card from your Graveyard to hand. But does more colours mean better? We're about to find out.
Power Level
When we think of 5-colour Commanders, flashing images of Kenrith, the Returned King, and Sisay, Weatherlight Captain haunt many Commander players. Unfortunately, Painbow tries hard to stay close to its 5-colour theme, and thus it can feel very unwieldy to operate. Just to cast out Jared Carthalion on turn 5, you'd need to be lucky enough that all your Lands' colours don't overlap.
The deck does have ramp spells such as Cultivate, Kodama's Reach, and some Lands that tap for any of 3 colours, but in practice it's not easy to get all 5 colours available by turn 5. While building your Mana base, you might find it hard to cast Creatures as well. Over 50% of the Creatures in the precon deck need 3 colours or more to cast, so while you may have 3 colours available, they might not be the right ones. That's ultimately the main frustration of 5-colour decks.
When you get Jared Carthalion on the board, that's when your Creatures can grow really fast, since his -3 ability adds a +1/+1 counter for each colour the targeted Creature belongs to. A 5-colour Creature gets +5/+5 permanently!
It's still going to be a very slow build up with lots of hiccups, and thus we can't rate this deck highly in power, even amongst its precon deck peers. While multi-coloured Creatures are cool and scary, they are just as vulnerable to single or mass removal spells as though it were mono coloured.
Value
Upgradability
Beginner Friendliness
Final Verdict