Dominaria United Inserts Reserved List Cards: A Legendary Step for Magic's 30th Anniversary
As we head closer to Magic: the Gathering's 30-year celebration, it's no surprise that the next expansion set goes back to where it all began. 
Dominaria Reunited, to be released on 9 September, takes place in the world of Dominaria, where characters such as Teferi, Karn, Urza, and Mishra were born and have shaped the game's lore ever since. 
Players' last visit to Dominaria was back in 2018, where powerful cards such as Teferi, Hero of Dominaria and Mox Amber were introduced and are still relevant today. The first official Dominaria teaser cards have been revealed by Wizards of the Coast, and they are not weak cards! 
Let's take a look at a few of our favourite upcoming Dominaria United products, including a special collector box where lucky players can pull an ultra-rare card worth $5000!
Collector Booster Boxes (with Lost Legends Cards!)
From the outside, Dominaria United's Collector boxes and packs don't look any different from those of previous sets. 
Each box has 12 packs, with each pack consisting of 15 Magic cards, many of them in traditional foiling. There's a possibility of striking 5-6 Rare or higher cards in a single pack. Same old.  
But these Collector packs will have something special that will likely never be done again: random inserts of bonafide, original-print cards from the 1994 set Legends! 
What is Legends and Are These Reprints? 
Legends was released in 1994, as one of the earliest themed expansions set after the original core releases. It contains incredibly strong cards that are still being used today: Nether Void, Land Tax, and Mana Drain being a few. 
A small stash of Legends boxes was discovered in an old Wizards warehouse that was about to be shut down, and rather than sell it to wealthy collectors, why not give every player a chance to own a Legends card?
Legends is nothing short of legendary, and because of its scarcity even back in the 90s, cards such as The Tabernacle at Pendrell Vale (the $5,000 card), Mirror Universe ($700), and Moat ($1,700) all spell money.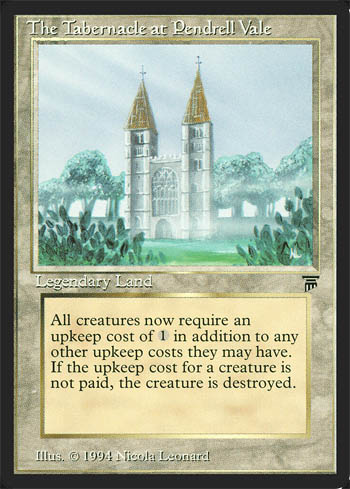 Each Dominaria United Collector pack has a 3% chance of pulling a Legends card, but it could be anywhere between a Common to Rare.
The inclusion of Commons is somewhat deflating (some are worth around $1), but do remember Legends is a set that holds plenty of nostalgia and is a legitimate piece of Magic's history. Many of these cards will never be reprinted, so here's a chance to own the originals.
Just note that due to the old printing processes and certain recently-banned cards, not all Legends cards will be found in Dominaria United. For example, certain powerful cards like Mana Drain and Sylvan Library will not be included – Check out the full list here.
Set Booster Boxes
Dominaria United continues the new trend of Set Booster boxes that promise more excitement in the pack-opening process than the old Draft Boosters.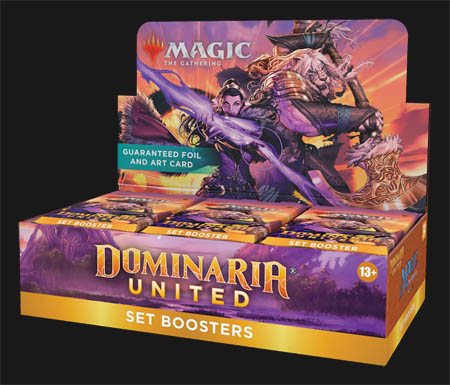 Each Set Booster box contains 30 individual packs. Inside each pack are 12 playing cards (1 of which is guaranteed foil), an art card, and if you're lucky, a special card from The List.
The List, a curated reprint of selected cards in Magic history, changes each set, and is inserted in 25% of Set Booster packs. 
Set Boosters are great because they generally provide more value than Draft Boosters despite a slightly higher average cost. You could potentially walk away with up to 4 Rares from a single Set Booster, whereas Draft packs max out at 2.
If you're someone who likes collecting more foil or Rare cards and don't mind paying a little more, Set Booster boxes/packs were made just for you.    
Commander Preconstructed Decks
Wizards is letting fans have a breather in the Commander format, after having 4-5 deck bundles in each of the past 2 releases. 
This time, only 2 preconstructed decks will be released for Dominaria United, 1 being a 5-colour Rainbow deck commanded by Jared Cathalion, and the other called Legends' Legacy, led by Dihada utilising red, black, and white. 
The new Commanders and their abilities have not been revealed as of yet, but each deck will contain 100 cards, tokens and a life tracker, all playable right out of the box, unlike Collector or Set Booster boxes.  
As a bonus, each preconstructed deck will also include a 2-card Collector Booster sample pack, where you can pull foils or extended-art cards. That's good extra value, considering preconstructed decks already come at a low competitive price.  
End Step
While Collector Boxes are recommended solely for true collectors of Magic and those who have deeper pockets, the inclusion of original Legends cards is a sweet bonus, and a strong pull factor that will entice even the thriftiest players. 
Set Booster boxes are still a good all-round choice that will provide lots of value and playability without breaking the bank. If you're solely a Commander player, then consider picking up the preconstructed decks if their themes fit into your style of play.
Write for Tap & Sac!
If you live for Magic and feel you have something to say that can help the player community learn and grow, we want to hear from you!
Drop us an email at lets@tapandsac.com with your topic idea and/or a writing sample (doesn't have to be on Magic) and we can discuss further from there!